In need of some deliciously patriotic drinks to celebrate the 4th of July with? We've got you covered! We've put together our favorite picks when it comes to 'Merica themed drinks for the summer. We have a drink for everyone- find yours below!
Red, White and Blue Boozy Slushies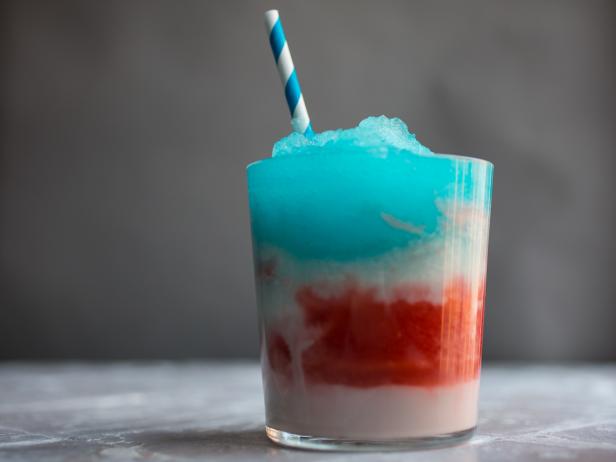 What better way to cool off after a long beach day than with a boozy slushie. We love this recipe by Wide Open Eats. The best part about these drinks is that you can make them without alcohol if you want something light or want to give these to the kids. These slushies get their color from different flavors of gatorade and limeade, making them super delicious and hydrating. Make sure you have a blender and coconut run on hand for this recipe. Here's what you'll need:
3 oz coconut rum, divided
3 oz red gatorade
3 oz limeade (We like Simply Limeade for its neutral color)
3 oz blue gatorade
Ice
Patriotic Pina Colada
Another option for a frozen drink is always needed, and the pina colada is a go to for summertime sips (with or without alcohol). This drink is white in color from delicious natural coconut flavors, and looks perfect for 4th of July entertaining with the right garnish. Skewer blueberries, cherries, and strawberries and place across the rim of each pina colada for an easy themed drink. These are perfect to serve in our Personalized Cervoise Glasses. Here's what you'll need (recipe via The Best Bite):
1 1/2 cup ice
1/2 cup diced pineapple frozen
2 ounces pineapple juice
2 ounces cream of coconut
2 ounces white rum, (omit for virgin version!)
Spiked Red White and Blue Lemonade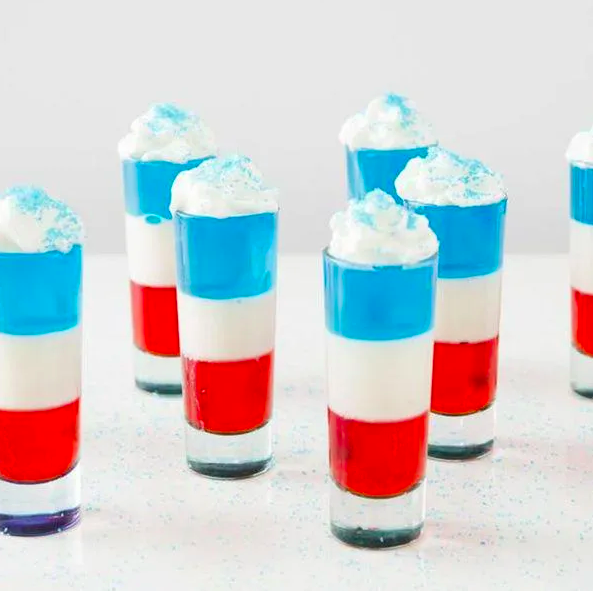 Summer isn't summer without lemonade and this red white and blue lemonade is perfectly on theme with the 4th of July. Spike with vodka for a boozy refreshment or serve without for a delicious fruity lemonade. Strawberries and blueberries give this lemonade a fruity and colorful touch for the perfect red white and blue beverage. Mix and serve in the Personalized Unbreakable Acrylic Pitcher for safe and yummy poolside drinks. Here's what you'll need (recipe via Wide Open Eats):
1 1/2 cup blueberries, divided
1 pint strawberries, divided
1 cup sugar
7 cups water, divided
1 cup freshly squeezed lemon juice
2 apples
Ice
Red, White, and Blue Jello Shots
Red, White, and Blue Jello Shots are the perfect way to kick off your 4th of July party this year. Made with a few types of jello, and blueberry vodka, you'll need to make extra because they will be a hit! Best when served in Personalized Shot Glasses. Here's what you'll need to make these boozy treats (recipe via Brit + Co.):
1 6 ounce package strawberry Jell-O
1 1 1/2 cup blueberry vodka
1 14 ounce can sweetened condensed milk
2 envelopes unflavored gelatin
1 6 ounce package berry blue Jell-O
whipped cream
Sprinkles
Patriotic Blackberry Gin and Tonic
The Blackberry Gin and Tonic by Nutmeg Nanny is a lighter alternative if you aren't feeling a frozen drink. This twist on a classic drink will bring a pop of color to your cocktail with a fruity twist form the blackberries. Serve these in a set of Personalized Stemless Wine Glasses from Carved Solutions.
6 blackberries
1 lime wedge
1 ounce simple syrup
2 ounces gin
3 ounces tonic water
Now that you have a few solid drink choices for your 4th of July get-togethers, let the party commence! If you have any questions about our products feel free to ask us anything at orders@carvedsolutions.com.