Hosting for the 4th of July doesn't have to be stressful. Whether it's a close family day of fun or a block party at your house, Carved Solutions is here to save the day with a few hosting must-haves for summer holidays.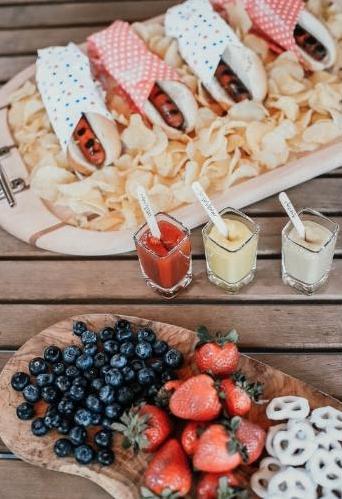 It's not a party without food, and if it's the 4th of July, hot dogs and burgers are a staple. If you're serving a big crowd, try using one of our larger Nautical Serving Trays that have two handles on each side to make it easy to carry the board from the kitchen to the grill and back. Not only does it make transitioning from outside to inside easier, but it also has the best summer aesthetic and reminds everyone of being on the water. For huge serving trays to use at block parties or larger parties, check out Nautical Boards's website for larger serving trays and carvings boards.
Something we are passionate about is that glass and the outdoors don't usually mix well. If you're hosting an outdoor 4th of July party, the best bet is to invest in acrylic drinkware and serveware. Our Tritan acrylic drinkware is virtually unbreakable and perfect for hosting by the pool, on the deck, or on the patio. Make the stress of glass breaking near the water a thing of the past and serve all your summer cocktails in our Acrylic Highball Tumblers or Acrylic Double Old Fashioned Tumblers. Big wine drinkers? We've got that covered too with Acrylic Wine Glasses with Stems or Stemless!
Speaking of wine, if you're serving rose or your favorite summer sparkling wine, don't forget to use an Acrylic Wine Cooler to keep your wine chilled and your guests happy.