Posted by Lilly Morgan on 9th Dec 2021
Hot cocoa season is now in full swing, and we absolutely cannot risk our chocolatey beverage getting cold. Here at Carved Solutions, we swear by our Kellbee Cups to keep our favorite drinks at the temperature they were intended to be for as long as possible. Insulated with a double-wall vacuum, our Kellbee Cup Tumblers insulate drinks better than a Yeti. Did we mention that they also come in exciting new colors with a wide variety of engraving options? These 20-ounce tumblers are great gifts for friends, family, or a treat for yourself.
Since it is Hot Cocoa season, we can't help but mention our favorite Hot chocolate brand in the world. Yes- the world. If you haven't heard of Sillycow Farms Hot Chocolate, then you are in for a treat. Sillycow Farms opened its doors in 2008 in the New England area and now sells its delicious hot cocoa flavors in stores around the US and through many online stores. We found Sillycow farms through one of our favorite gourmet foods sites, Wholesome Good, which sells every flavor of their creamy, dreamy, non-GMO, gluten-free hot cocoa. Although Sillycow has grown immensely since 2008, each bottle still feels just as special and homemade just for you as they come packaged in recycled milk bottles.
After many taste tests of each of Sillycow's hot chocolate flavors, we've decided to explore new ingredients to add in and make some fancy hot chocolate recipes to serve over the holidays. Read along for a few wintery hot cocoa recipes and the perfect Kellbee Cups to go along with each of these.
Lavender Kellbee Cup + Sillycow Farms Chocolate Truffle Hot Chocolate
We recommend sipping Sillycow Farms Truffle Hot Chocolate from our Lavender Kellbee Cup Tumbler simply because everyone loves a hint of lavender. Try our favorite Lavender Honey Hot Cocoa recipe next time you reach for your Lavender Kellbee Cup.Spice it up:
Try out the Lavender Honey Hot Chocolate by Fit Foodie Finds to match your lavender Kellbee Cup. Homemade Lavender Honey Simple Syrup creates a lovely floral and light flavor combination that is to-die-for. Explore Lavender Life Company's natural and edible products to elevate your beverage.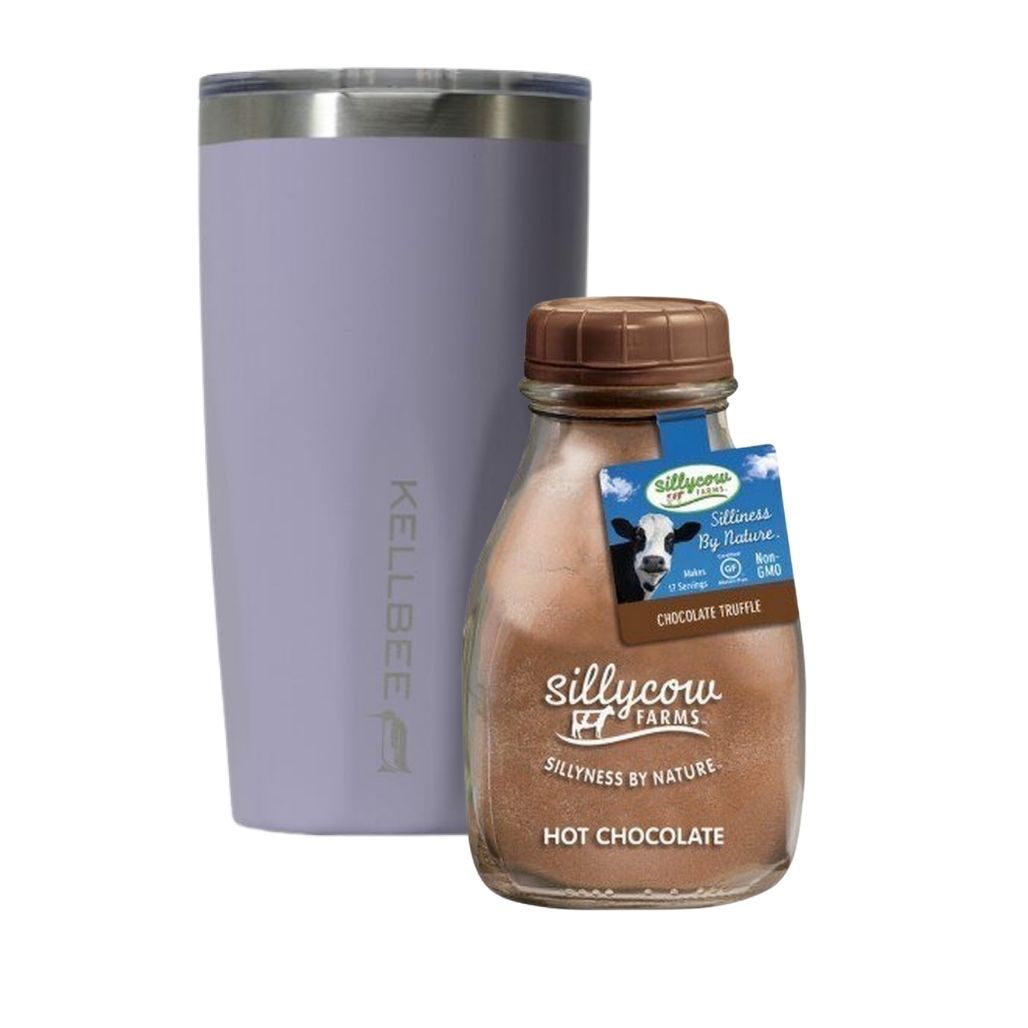 Pink Kellbee Cup + Sillycow Farms Marshmallow Swirl Hot Chocolate
There is no better pairing with a Light Pink Kellbee Cup than Sillycow Farms light and sweet Marshmallow Swirl Hot Chocolate. This drink is best sipped by a toasty fire with a big cozy blanket.
Spice it up:
Sprinkle mini marshmallows on top to melt in your hot cocoa, making it extra creamy. Add strawberry marshmallows to match your light pink cup!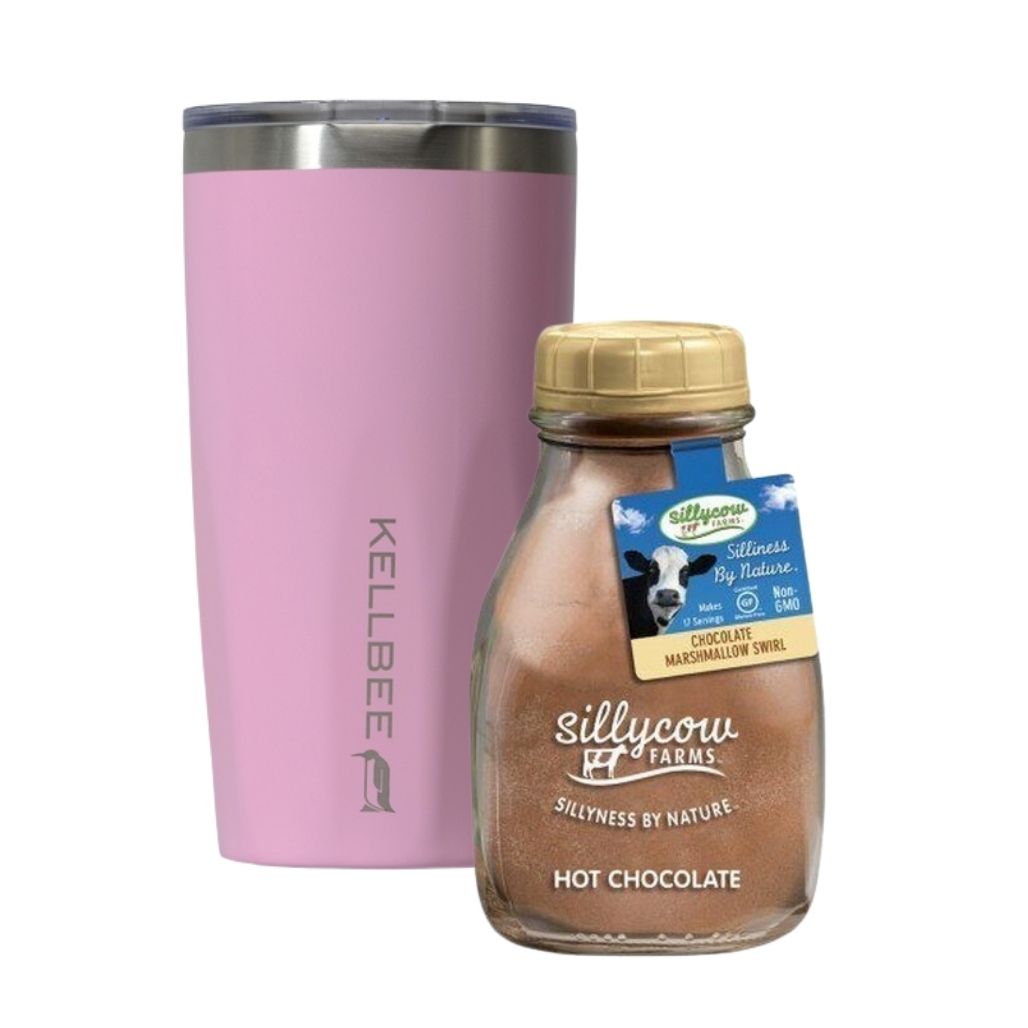 Coral Kellbee Cup + Sillycow Farms Pumpkin Spice Hot Chocolate
The official pumpkin spice season is over, but that doesn't mean you must sacrifice your pumpkin fix for the rest of the year. Wholesome Good sells Sillycow Farms Pumpkin Spice Hot Chocolate all year long, and we are so thankful that they do. We've paired this PSHC (aka Pumpkin Spice Hot Cocoa with our Bright Coral Kellbee Cup. The orangey-pink coral hues combined with pumpkin spice flavors will brighten the coldest winter days.
Spice it up:
The best way to elevate your Pumpkin Spice Hot Chocolate is with a dollop of whipped cream and a sprinkle of pumpkin spice to give it an extra kick. Add a small cinnamon stick for taste and presentation if you love cinnamon.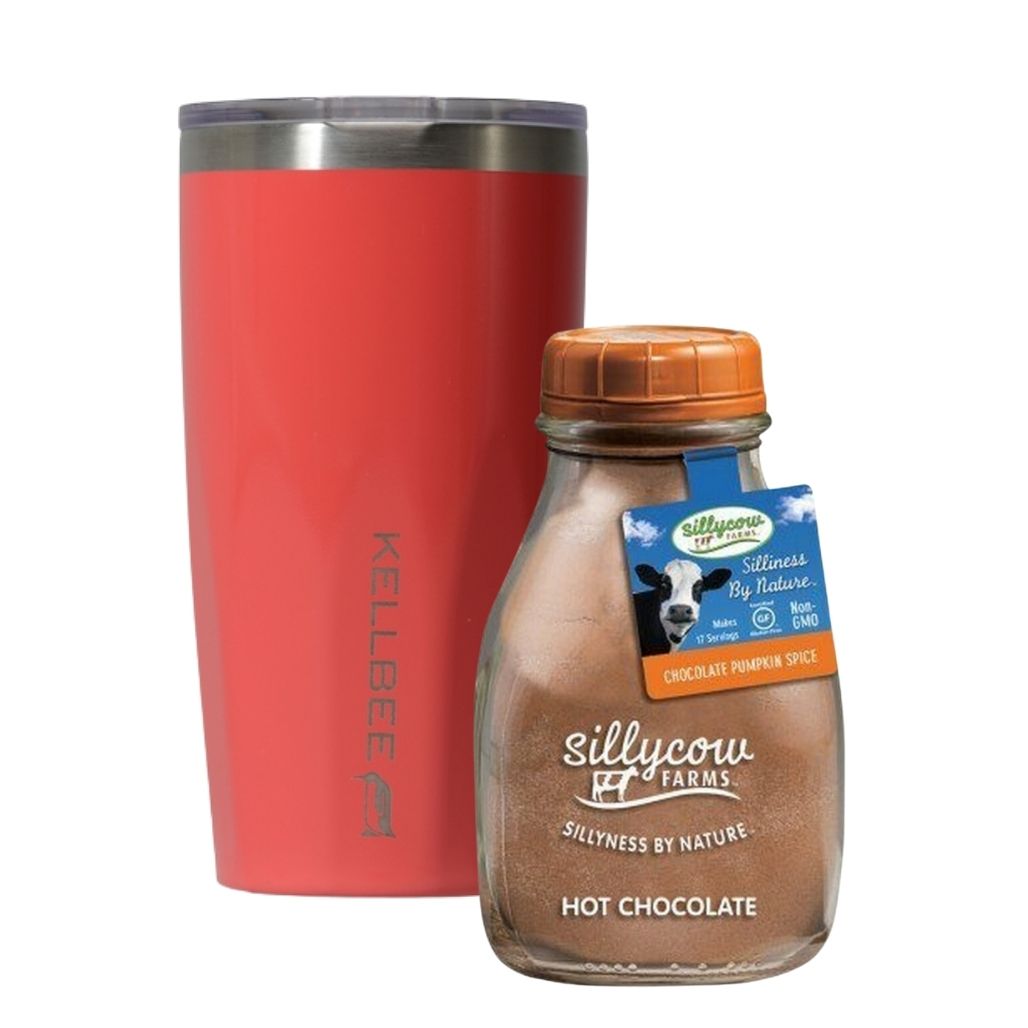 Hot Pink Kellbee Cup + Sillycow Farms Maple Hot Chocolate
Fill your Hot Pink Kellbee Cup with piping hot Maple Hot Chocolate with a hint of classic maple syrup flavor. Stand out on a dreary winter day with your hot pink Kellbee tumbler personalized with a monogram or initials of your choice. We love the unique flavor combination of maple and chocolate, so we decided to add a little something extra.
Spice it up:
Top with whipped cream and add a drizzle of Runamok Cinnamon & Vanilla Maple Syrup for a bold mingling of flavors.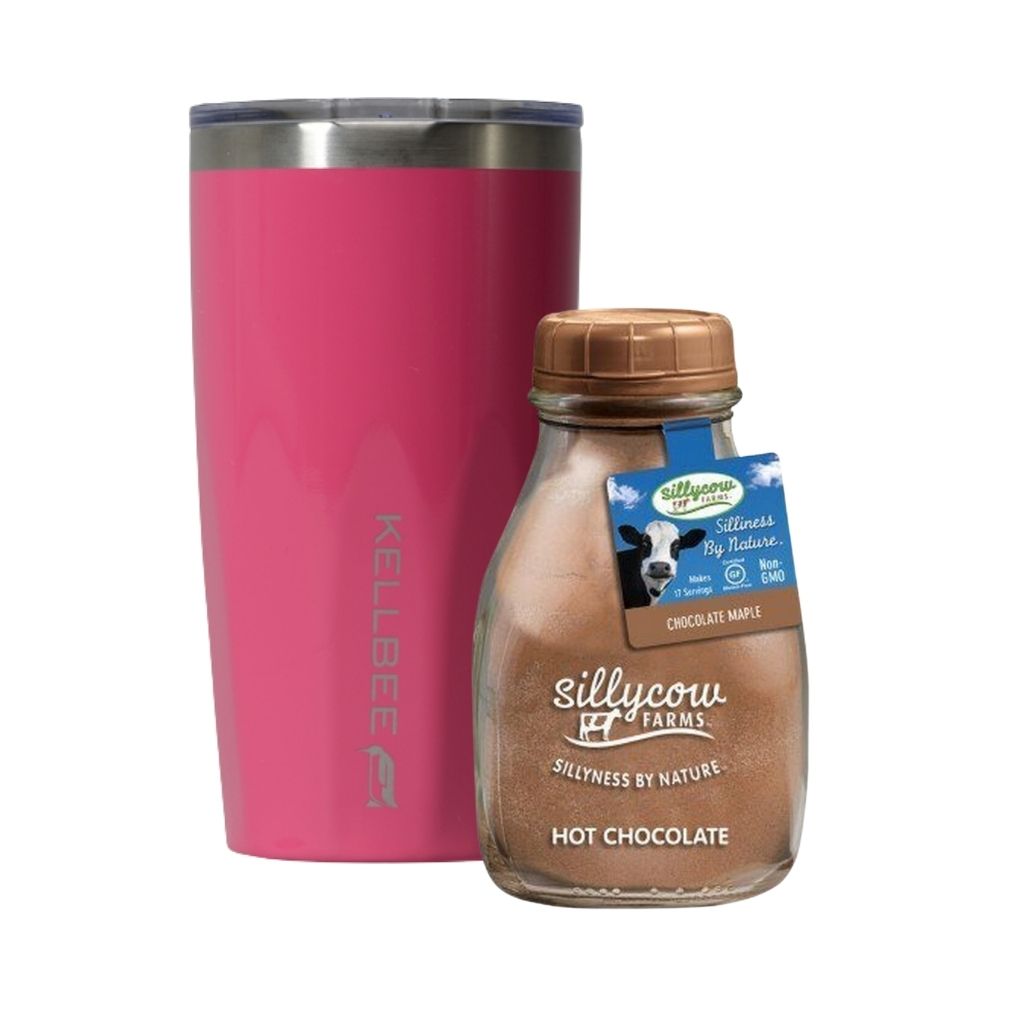 Blue Kellbee Cup + Sillycow Farms Caramel & Sea Salt Hot Chocolate
If you love a sweet and salty combo, Sillycow Farms Caramel & Sea Salt Hot Chocolate is the drink for you. Pair with your blue Kellbee Cup for a delicious winter treat.
Spice it up:
Drizzle caramel and Maldon Sea Salt from Wholesome Good over whipped cream on top of your hot cocoa for a melt-in-your-mouth treat.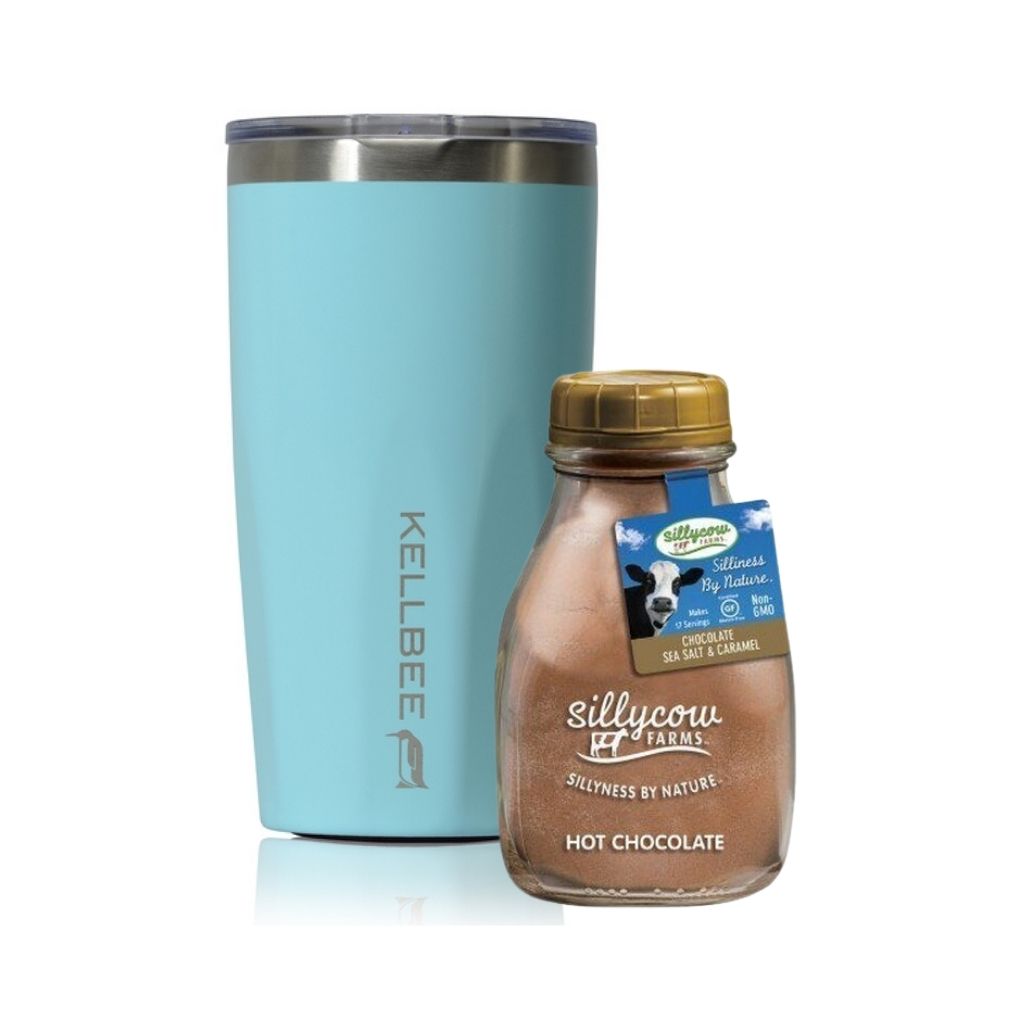 White Kellbee Cup + Sillycow Farms Coconut Cream Hot Chocolate
It's only fitting to drink Coconut Cream Hot Chocolate from our snow-White Kellbee Cup. The eBay time to sip this is when you're hopelessly snowed in while WFH but dreaming of walking down a sunny beach lined with coconut trees.
Spice it up:
Top with homemade coconut whipped cream from the best recipe found on Gimme Some Oven's blog. Sprinkle shaved coconut and drizzle chocolate syrup before serving- you can never go wrong with extra chocolate.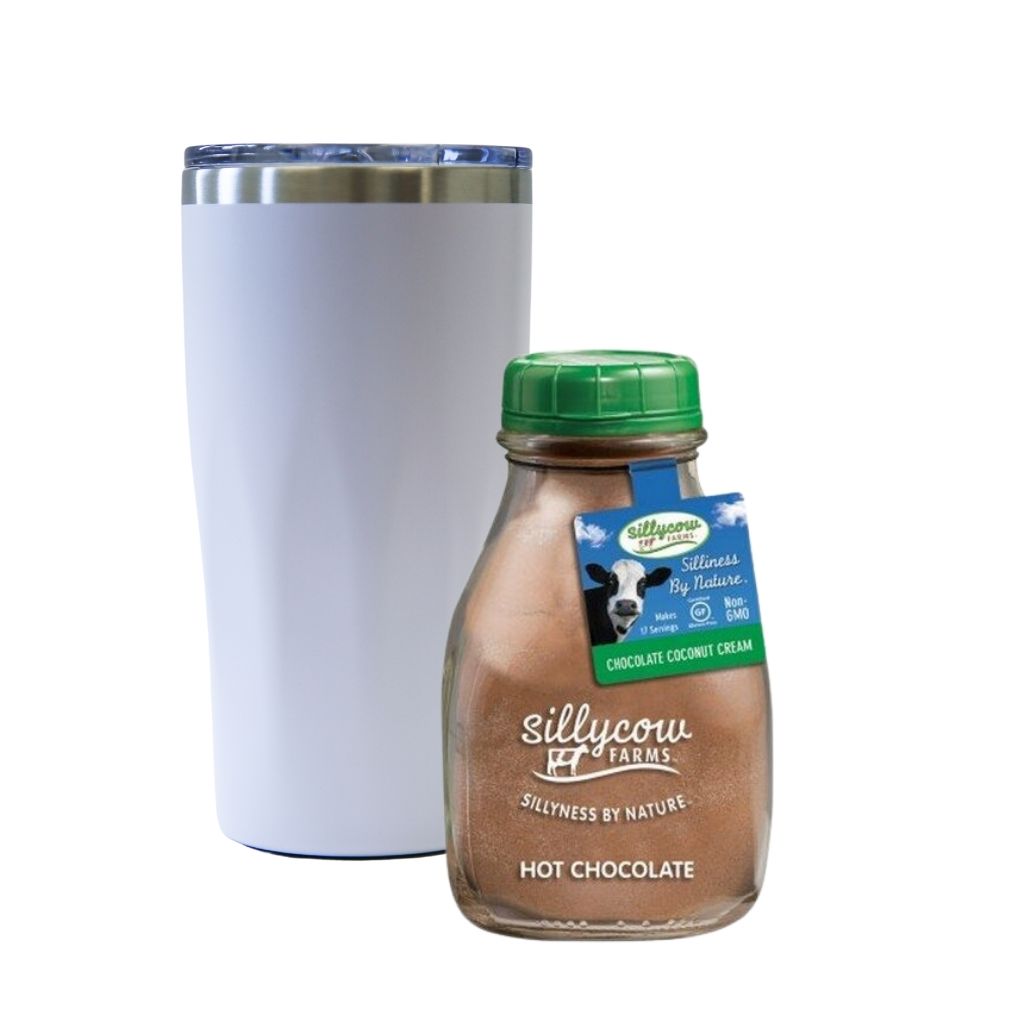 Black Kellbee Cup + Sillycow Farms Moo-usse Hot Chocolate
Sip Sillycow's extra rich and creamy Moo-usse Hot Chocolate out of our black Kellbee Cup to keep your drink hot for hours. This Moo-usse Hot Cocoa blend tastes like drinking your favorite chocolate mousse dessert and does NOT disappoint.
Spice it up:
Top your hot chocolate with classic chocolate mousse toppings. We like to add fluffy whipped cream and dark chocolate shavings that will melt in your mouth each time you sip your hot cocoa.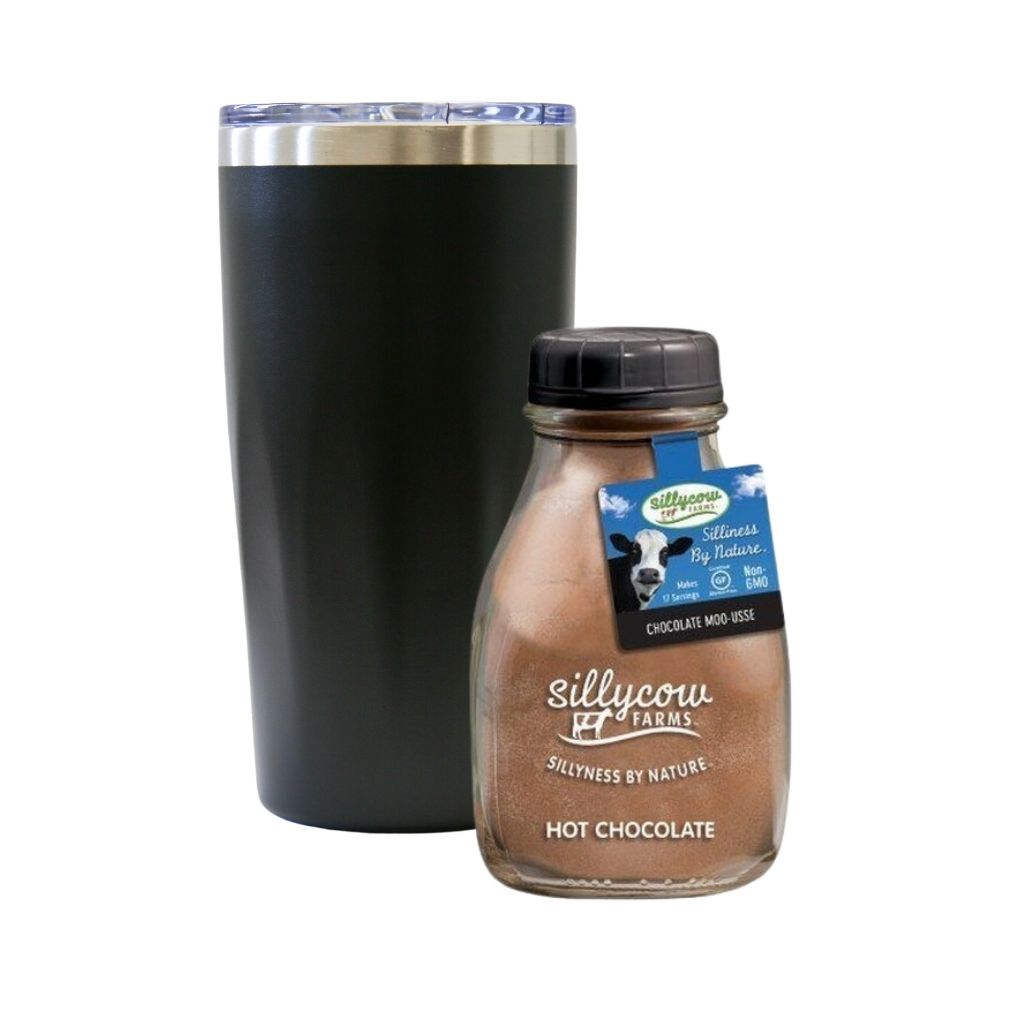 For more information on our amazing Kellbee Cups head give us a call at 802.872.0047 or email orders@carvedsolutions.com!